About Impuls Medical Institute
Impuls Medical Institute (IMI) is a private institute in Namangan, Uzbekistan. It is based in the east side of the country named Valley. Institute was founded in 2019 as a branch of Andijan Medical Institute (AMI) which has 25 years of experience. The Institute has a cooperative contract with AMI thus making it a Semi-Government Medical Institution.
Impuls aims to be an innovative center of excellence in learning and research, producing competent, caring and ethical professionals who are lifelong learners. We are committed to achieving the highest standards of intellectual, educational and research productivity.
Impuls Medical Institute aims to become the leading higher education institution in the region and contribute to the development of Uzbekistan.
The mission of the institute: taking into account the country's demand for medical workers, to educate a sufficient number of students, to offer solutions for the training of professional personnel, to produce new educational technologies, and to develop educational principles. Impuls Medical Institute provides education to students from different countries at internationally recognized standards.
The educational process is carried out in cooperation with leading international research institutions, including those in the field of medicine and our compatriots working abroad. Studying is in English and Uzbek and lasts 6 years. Graduates are awarded a diploma of higher education. Impuls Institute is well aware of its responsibility, and devotes its energy and opportunity to creating an intellectual environment where students and professors can conduct effective research together. The institute aims to offer its students the most modern and high-quality education. Every student who embarks on this long educational journey will graduate from the Institute as a fully equipped individual.
The Impulse Institute is well aware of this responsibility and is dedicated to creating an intellectual environment in which students and faculty can conduct research effectively and efficiently together. The institute aims to offer the most modern and best quality education to its students. Every student who embarks on this long educational journey at our institution graduates as a fully equipped and fully equipped individual.
Why Impuls Medical Institute?
USMLE (United States Medical Licensing
Examination) study pattern
Work and Travel
Hybrid Study
Grants for 10% top highest achievers in exams
Practice based study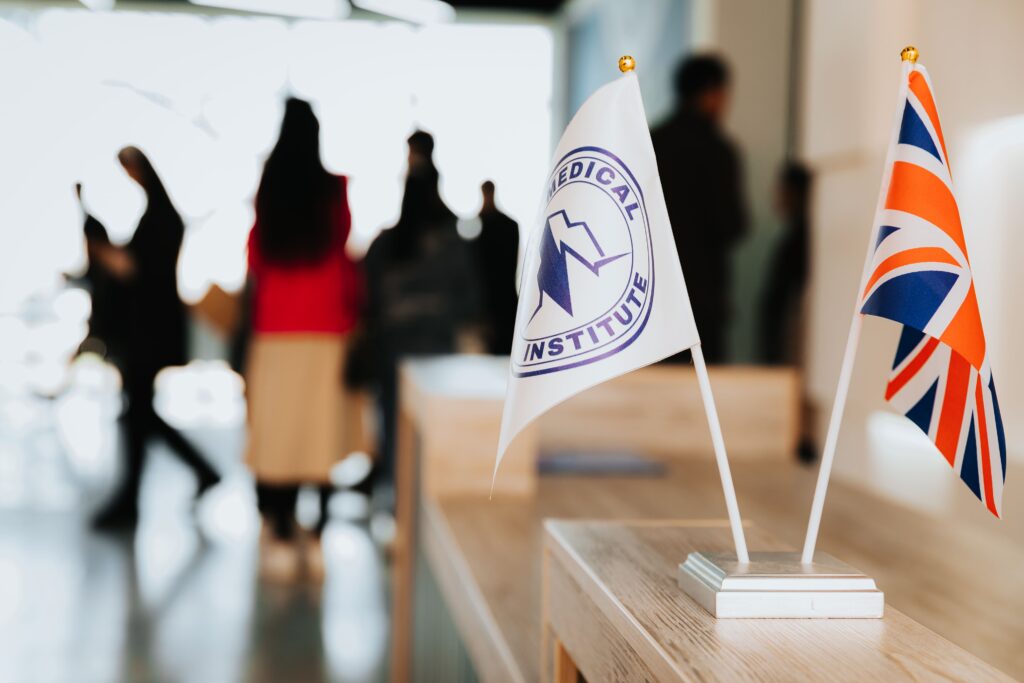 Students are now studying general medicine which involves prevention, diagnosis, and treatment of adult diseases. Currently, students who have enrolled general medicine faculty are being familiarised on an advanced level with the field of medical science, through experimental practice, observation, theoretical and practical knowledge. In addition, students can able to visit once a week to one of the clinics which has been working cooperatively with Impuls Medical Institute and participate general medicine diagnosis and treatments. Also, live treatment videos are being shown to students and can be watched from Institute itself.
From September 2023 another three faculties will be open for students. They are Faculty of Dental Practice, Faculty of Pediatrics and Faculty of Pharmaceutical Sciences. Local and overseas students can study full-time only on these faculties as an undergraduate student.
As study structure is based on USMLE system, All lessons are held in English language by high qualified teachers and PhDs whose English levels are above B2 at least.
Impuls Medical Institute teaches students based on USMLE system. The United States Medical Licensing Examination (USMLE) is a three-step examination for medical licensure in the U.S. The USMLE assesses a physician's ability to apply knowledge, concepts, and principles, and to demonstrate fundamental patient-centered skills, that are important in health and disease and that constitute the basis of safe and effective patient care.
For successful top students, Impuls Medical Institute pay all the fees related to exam costs.
When students graduate, they take USMLE exam, successful students can be able to work in developed countries. Medical licensing authorities accept the USMLE program in the United States, Israel, New Zealand, UAE, and Qatar. These countries accept the USMLE scores and exempt candidates from other eligibility criteria. Apart from that, during the last year of study for overseas students specialists will be engaged to prepare them for their countries requirements exam to be a physician in their country such as MBBS for India, TUS for Turkey.
The Importance of student life at Impuls Medical Institute.
In our institute, traditionally, student life is valued highly by the students, teachers and also parents. We always try to make sure every student spend his or her golden life time meaningful, purposeful and joyful. Hence, we try to provide everything they need and give them opportunity to become professional when they grow up. Their goals, roles and identities are connected to and dependent on their academic qualifications, success and skills.
The Institute try not to end student life for the even at graduation and post graduation, because if student life stops, they stop learning, they stop growing. Therefore it is so important to stay open to all life experiences, get ready to leave their bad habits behind. One of the our ambition is to remind them the great memories even they grow up and work at the top places they want.
Currently, Impuls Medical Institute has more than hundred staff throughout all departments, including eighteen professors, twenty three senior teachers and other fields specialists. Some of the PhDs, senior teachers and marketing & sales departments have been engaged from abroad: India, the United Kingdom, Malaysia. Nowadays, HR department is working on to bring high qualified teachers and specialists from Germany and Singapore. In addition, the Institute is investing its teachers to study furthermore in Korea and Japan with a contract so that they will return to the institute as soon as they complete their studies. All of staff have IELTS certificates as the Institute is international, plus it is one of the requirements because of the fact that the institute study system is based on USMLE ( United States Medical Licensing Examination). All teachers have been tested on USMLE, before they start working and well trained every quarter to assure they can teach students and prepare future USMLE exams.
For Admissions to Impuls Medical Institute Please Contact Us